Berkshire Bank appoints new Nitin Mhatre as CEO, president | Business
PITTSFIELD — For the first time since it went public 21 years ago, Berkshire Bank's parent company has gone outside the firm to hire a new CEO.
After a nationwide search, the board of directors Monday appointed Nitin J. Mhatre as president and CEO of Berkshire Hills Bancorp Inc. and CEO of Berkshire Bank. Berkshire Hills became a publicly traded company in 2000.
Mhatre, who most recently served as executive vice president of community banking at Webster Bank in Waterbury, Conn., assumes his new duties at Berkshire on Friday. He replaces former President and CEO Richard Marotta, who resigned abruptly without explanation Aug. 10.
Sean Gray, who has served as Berkshire's acting CEO since then, has been and will continue to be Berkshire Bank's president and chief operating officer. Gray has been with Berkshire Bank since 2007.
J. Williar "Bill" Dunlaevy, of Lenox, who chairs both the company and the bank, said in a telephone interview that Mhatre is "really a match for the values that we have at Berkshire Bank and the vision that we have for the bank."
"He's just right in sync," Dunlaevy said.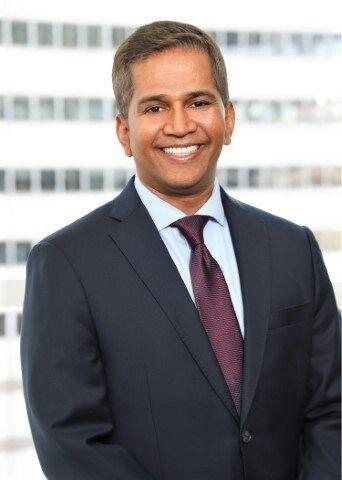 "I am humbled and honored to join Berkshire on its 175-year banking journey, and to be the first CEO hired from outside the bank since its transformation to a public company in 2000," Mhatre said in a statement. "Berkshire is a vibrant, values-guided, community-dedicated institution with a tremendous history of caring for its customers and employees through its execution of its mission, BeFIRST values and keen sense of corporate purpose.
"I look forward to working closely with Sean and the bank's leadership team to engage and inspire our bankers, customers, communities and shareholders as we deepen our commitment to be a leading environmentally, socially, and integrity-driven community bank to foster innovation, deliver an exceptional customer experience and improve financial performance," he said.
Mhatre, a senior banking executive with 25 years of community and global banking experience, was a member of Webster Bank's executive team, and led its consumer and business banking businesses. He was responsible for profitable growth at Webster, which has $33 billion in assets, and led a diverse team of more than 1,500 employees.
Webster Bank, listed on the New York Stock Exchange, operates 155 banking centers between Westchester County, N.Y., and Boston, and 22 commercial banking offices throughout the Northeast, according to its website.
Before joining Webster Bank, Mhatre spent 13 years at Citigroup, where he served in various leading roles across consumer-related businesses worldwide. He has served on the board of the Consumer Bankers Association in Washington since 2014, and served as board chairman from 2019-20.
"He's got tremendous experience in leading banks," Dunlaevy said. "He's got a diverse skill set, is very strong in community banking, very strong on technology and digital applications and is a very strong community person."
"We are extremely fortunate to have Nitin join Berkshire," said Sylvia Maxfield, board member and chairperson of the board's CEO search committee. "We look forward to working with him to further leverage the bank's strengths, while seizing new innovative initiatives, to create New England's most trusted community bank and position us to maximize future opportunities for our customers and shareholders."
Marotta had served as president and CEO of Berkshire Hills Bancorp from November 2018 until August. He had replaced longtime Berkshire Bank President and CEO Michael P. Daly, who resigned under similar circumstances three years ago.
Daly left one year after Berkshire had signed a lease to move its corporate headquarters from Pittsfield to Boston. Founded in 1846, Berkshire Bank's administrative headquarters is still located in Pittsfield.
The largest regional bank located in Massachusetts, Berkshire Bank began expanding aggressively in 2010 by purchasing financial institutions throughout the Northeast, but began to slim down a bit last year. In December, the bank's holding company announced that it had entered into an agreement to sell its eight Mid-Atlantic branches in New Jersey and Pennsylvania, a deal that is expected to be finalized in the first half of this year. and to consolidate 16 other branches in New England and New York.
These moves will reduce the bank's overall footprint by about 18 percent. When the sales and consolidations are completed, Berkshire will have 106 branches in five states, Massachusetts, Connecticut, Rhode Island, Vermont and New York. The bank currently operates 130 branches in seven states. Berkshire Bank is also in the process of finalizing plans to open a new commercial banking office in Providence, R.I., to strengthen the southeast New England operations that it acquired in 2019.
The bank's holding company also experienced significant drops in net revenue and profits during the second quarter of this year, coinciding with the COVID-19 pandemic's maximum impact, according to financial industry publications and banking analysts.
A "goodwill impairment" write-off of $554 million during the second quarter of this year was blamed on an overall decline in the value of bank stocks attributed to the pandemic.
On Monday, Berkshire reported that its quarterly total net revenue had dropped 14 percent during the fourth quarter year over year, and that its income available to common shareholders had fallen by 41 percent.