Book on the management landscape an essential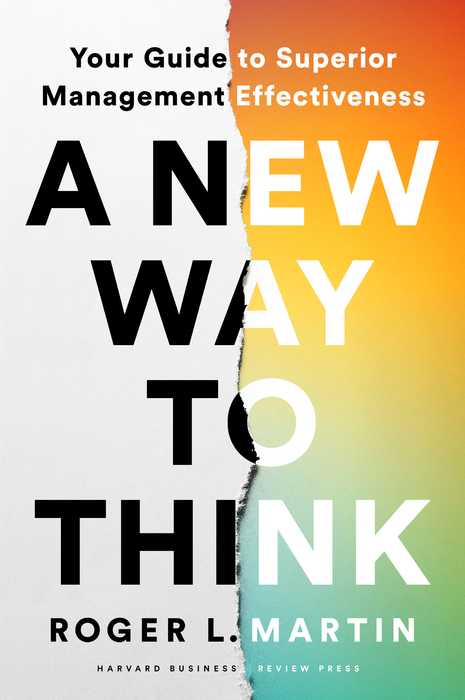 Toronto – Over a stellar career, Professor Emeritus Roger Martin, a former Dean at the University of Toronto's Rotman School of Management, has advised the CEOs of some of the world's most successful companies. From the beginning, he noted that almost every executive he talked to had a "model"—a framework or way of thinking that guided their strategy and activities. But these models tended to become automatic, so much so that when one didn't work, the typical response was just to apply it again—with greater enthusiasm.
Martin took a fresh, critical approach to helping. When company leaders came to him with fundamental questions—How do you decide where to play and how to win? What is the key to shaping and changing corporate culture? How can you design a successful, sustainable innovation process?—his first response was to break the spell of the current model with a memo articulating a new way to think about the problem at hand and a more powerful and effective way to successfully overcome it.
Over time, these ideas worked their way into Martin's many Harvard Business Review articles. Now, for the first time, they appear together in his latest book, A New Way to Think: Your Guide to Superior Management Effectiveness, published by Harvard Business Review Press. With his trademark incisive intellect and clarity, Martin covers the entire breadth of the management landscape—illuminating the true nature of competition, explaining how company success revolves around customers, revealing how strategy and execution are really the same thing, and much more. Reading like a series of one-on-one sessions with one of the world's leading business thinkers, A New Way to Think is an essential guide for any current or aspiring business leader.
At the Rotman School, Professor Martin served as Dean from 1998 to 2013, academic director of the Michael Lee-Chin Family Institute for Corporate Citizenship from 2004 to 2019 and Institute Director of the Martin Prosperity Institute from 2013 to 2019. In 2017 Thinkers50 named him the world's number one management thinker. He has published 30 articles in Harvard Business Review.
Read an excerpt from A New Way to Think from the Rotman Insights Hub.
Advance Praise for A New Way to Think:
"Please, please do not 'read' A New Way to Think. Ingest it, immerse yourself in it—head and, especially, heart. It is spot-on and, if applied assiduously, I guarantee it will change your life, the lives of those you work with, and the community in which you work." — Tom Peters, management guru; bestselling author, In Search of Excellence
"Roger Martin has an undeniable gift for simplifying the complex and nuanced scenarios of management and strategy down to the main thing. A framework for thinking through the most common problems with a new lens." — Julia Hartz, cofounder and CEO, Eventbrite
"Rather than replacing traditional models with better models, I favor Roger Martin's underlying proposition in this book, which is to replace traditional ways of thinking with new ways of thinking. New ways of thinking must shift from centering around the organization to centering around human value." — Zhang Ruimin, founder and Chairman, Emeritus, Board of Directors, Haier Group
Bringing together high-impact faculty research and thought leadership on one searchable platform, the new Rotman Insights Hub offers articles, podcasts, opinions, books and videos representing the latest in management thinking and providing insights into the key issues facing business and society. Visit www.rotman.utoronto.ca/insightshub.
The Rotman School of Management is part of the University of Toronto, a global centre of research and teaching excellence at the heart of Canada's commercial capital. Rotman is a catalyst for transformative learning, insights and public engagement, bringing together diverse views and initiatives around a defining purpose: to create value for business and society. For more information, visit www.rotman.utoronto.ca.
-30-
For more information:
Ken McGuffin
Manager, Media Relations
Rotman School of Management
University of Toronto
E-mail:[email protected]
---
Disclaimer: AAAS and EurekAlert! are not responsible for the accuracy of news releases posted to EurekAlert! by contributing institutions or for the use of any information through the EurekAlert system.