Small business management tool provider Zeitgold lays off 75 workers
Israeli-German startup Zeitgold GmbH has laid off 75 workers, mostly in Berlin and the rest in Israel, a person with knowledge of the move told Calcalist on condition of anonymity. The company even decided to shut down its main product, which it has been developing since it founded in 2015. Following the layoffs, the company will be left with 30 employees, 10 of them in Israel. Among the company's investors
are Vintage Investment Partners, Battery Ventures, HV Holtzbrinck Ventures, Saban Ventures, and btov Partners, as well as insurance company AXA Germany (AXA Innovation Campus) and Deutsche Bank.
The artificial intelligence accounting automation system developed by Zeitgold provides solutions to small businesses such as coffee shops, restaurants, retailers, and repair service companies. The company's app enables managers to carry out tasks like bookkeeping, payroll management, invoicing, and billing.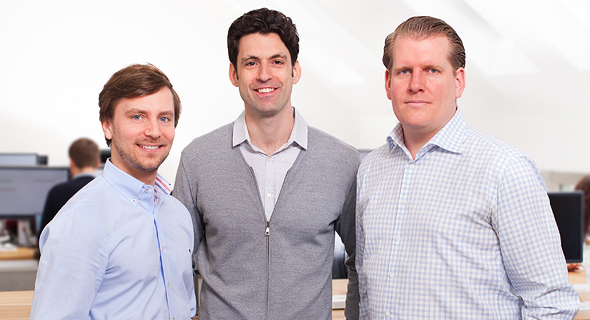 Jan Deepen (Right), Kobi Eldar, and Stefan Jeschonnek. Photo: PR
Zeitgold was founded in 2015 by Israeli CEO Kobi Eldar, Stefan Jeschonnek, and Jan Deepen, who previously founded fintech company SumUp Inc. The company's founders decided to shut down the development of their main solution due to its demand for immense additional investment and difficulties it encountered amid the Covid-19 crisis. After many years of development, trying to make the tool as autonomous as possible, the company realized that full management of such businesses cannot be done without a large amount of manpower.
The pandemic sharpened the realization and the founders, together with the investors, made the difficult decision.
"We started this company five years ago because we want to make it possible for anyone to successfully run a small business," the founders wrote in a message to
the company's employees and clients. "As founders, we still fundamentally stand behind our founding vision. Together with a smaller team, we will now take a step back and re-envision how great software can empower small business owners in running their business with confidence and success. In order to do that, we will leverage the technology assets we have built and the comprehensive market and customer understanding we have developed. We are grateful that our investors, who have invested in our series B financing round recently, are fully supporting us in our decision."
Following the layoffs, Zeitgold plans to focus on developing financial software for small businesses that center on autonomous systems for freelance and tax filing solutions.
"We will sunset the existing Zeitgold product and therefore will discontinue the majority of our operations in Berlin and Tel Aviv from September onwards. We will have to say goodbye to about 75 of our team members and will rebuild Zeitgold with a small team of about 30 people. We will focus on pure software products that are building on the strengths, assets, and IP we have built over the past years," read the founders' statement.