University HQ Releases the 55 Best Business Management Schools and Programs – Press Release
By
Patricia A. Eldridge
3 years ago
University Headquarters, the premier educational resource for students, is pleased to announce University HQ's Top 55 Business Management Programs. The list was assembled after a long period of rigorous research that compared many of the nation's business management degree programs. University HQ's (UHQ) educational researchers relied on each program's academic merits, cost figures, return on educational investment, reviews, and whether they offered online degree options among other objective metrics.
UHQ researchers made certain that they assembled their list using the most objective data possible. Their goal was to provide students and their families a measure against which they could apply their own personal needs. The team also worked hard to assemble a list that represented every region, if not every state, so that students could find top quality business management degree programs near them. Students can also find high value programs that offer an online degree option so that they don't need to travel at all.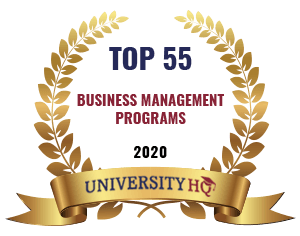 For academic credentials, UHQ researchers gathered government data that showed each school's retention rate, graduation rate, and their student-to-faculty ratios. These figures are thought to reflect the overall quality of the education and student experience generally. That is, retention rate is an important metric that shows how many first-year students return to campus for their second year.
When a college or university can retain students into their second year, that indicates the student's overall satisfaction with the schools program. Before they increase their investment in the institution, students must find that their experience is satisfactory on a number of levels. First and foremost, they should find the academics enriching and benefiting their long-term personal and career goals. Returning students are also likely to enjoy the campus environment including the social events, athletics, and even the geographic location.
Researchers then looked at longer term retention by assessing graduation rates. While these figures are often lower than the first-year retention rates, at least one other factor is in play. Researchers look at the total percent of graduates but also how many students are known to transfer out to other schools. While transfers are not quite ideal, when a student ships off to another institution, they often are able to do so because they have a strong academic footing and they simply want to pursue a specialty area.
The third, but not least, academic metric is the student-to-faculty ratio. Researchers look for the most favorable student/teacher ratio because that indicates the overall availability of a professor to their students. Thus, a 15 to 1 average ratio indicates that students should have ample opportunities to ask questions, participate in class, and engage with an academic expert when their curiosity is at its peak. UHQ researchers value these ratios higher at schools that have fewer graduate students working as teaching assistants.
Some of the top colleges that are part of the University HQ Best Business Management list are: University of Redlands, Dartmouth College, Webster University, University of Maryland – University College, Indiana Wesleyan University – Marion, Texas Tech University.
Once a school is shown to be determined to deliver terrific academics, UHQ researchers assessed each program for its overall economic value. To make this determination, the team members looked at the overall cost of the education. That includes tuition, fees, books, and living arrangements. This number was then compared with how much students tend to receive in the way of Pell Grants, Federal grants, student loans, as well as institutional grants and scholarships. For some schools, their initial cost was dramatically offset by these various financial aid factors.
The up-front cost of a business management degree program isn't the end of the story, however. The average net cost of the education is considered alongside the academic factors, but also the long-term outcomes reported for the students. That is, if a school has excellent academics, very high net cost, but then alumni reflect higher earnings and thus a terrific return on investment (ROI), that business management program is seen as a terrific value.
When students and their families assess UHQ's findings, they'll discover an objective list though the programs on the list are not necessarily greater or lesser than each other. That is, each one is seen as providing excellent value. The UHQ best business administration programs are the cream of the crop. Students can take this list and compare it with their personal needs and goals. They can learn from UHQ's methods and assess a favored school using these objective measures to determine whether it's the best value from an objective viewpoint.
###
For more information about University HQ, contact the company here:
University HQ
Christian Jacobs
(800) 793-5011
[email protected]
University HQ
United States
University Headquarters
University HQ